Debug Message Logger
Overview​
All debug messages are logged into RAM buffer, this buffer can be read with the Debug Message Logger.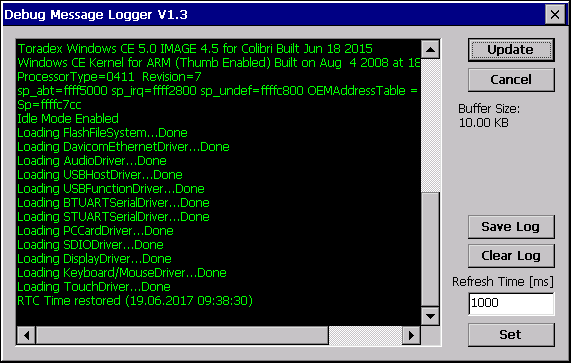 :::info Only for PXA (image V4.1 onwards), Tegra modules (image V2.1beta2 onwards) and iMX7 modules (image 1.1b2 onwards )
:::
Refresh Time​
Debug messages are read from the buffer at regular intervals. The interval period is defined by the Refresh Time parameter in the dialog. If the Refresh Time is set to 0 then the buffer will not be refreshed automatically. The Update button can be used to refresh the buffer manually.
Downloads​
Please find the download link for the respective OS to be mentioned below: