Version: 6
Torizon OS Reference Minimal Image Technical Overview
Introduction​
This article shows an overview of the Torizon OS Reference Minimal image capabilities, intended use, and differences compared to the ready-to-use Torizon OS. It highlights how you can leverage it to customize the Torizon OS using Yocto Project/Open Embedded and have easy access to Torizon Cloud features.
Overview​
What is Torizon OS Reference Minimal Image?​
Torizon OS Reference Minimal Image is an embedded Linux reference image built on top of Toradex Linux BSP Layers. As with every other reference image from Toradex, Torizon OS Reference Minimal Image is a starting point for the development process of our customers.
It inherits all the configurations, device drivers and kernel modules from Torizon OS, including the components for secure offline and remote over-the-air (OTA) update. However, it does not feature a container engine, so it is not possible to use Docker containers out of the box.
Unlike Torizon OS, the Torizon OS Reference Minimal Image is not a ready-to-use operating system!
Intended Use​
Torizon OS Reference Minimal Image aims to enable and facilitate the customization of Torizon OS through the usage of Yocto Project/OpenEmbedded. It also facilitates the usage of Torizon Cloud features while keeping a Yocto Project/OpenEmbedded development environment.
Torizon OS Reference Minimal Image gives a starting point for the customization, offering the base Yocto layers used to build your operating system with the minimum requirements. To customize the reference image and then, have an operating system suitable to your specific needs, first, you have to understand the basics of the Yocto Project. Then, it's important to:
Understand about Toradex reference images offerings: refer to BSP Layers and Reference Images for Yocto Project Software.
Understand about how to build a Toradex reference image: refer to Build a Reference Image with Yocto Project/OpenEmbedded and Build Torizon OS from Source With Yocto Project/OpenEmbedded.
Understand the process of creation and customization of layers: refer to Custom meta layers, recipes and images in Yocto Project (hello-world examples).
Torizon OS and Torizon OS Reference Minimal Image​
Architecture​
The reference minimal image gathers the elements of the Toradex BSP and Torizon layers. In other words, it contains the Linux kernel, drivers, configurations and the necessary Yocto Project layers to customize, configure, and build it. This is shown in the diagram below: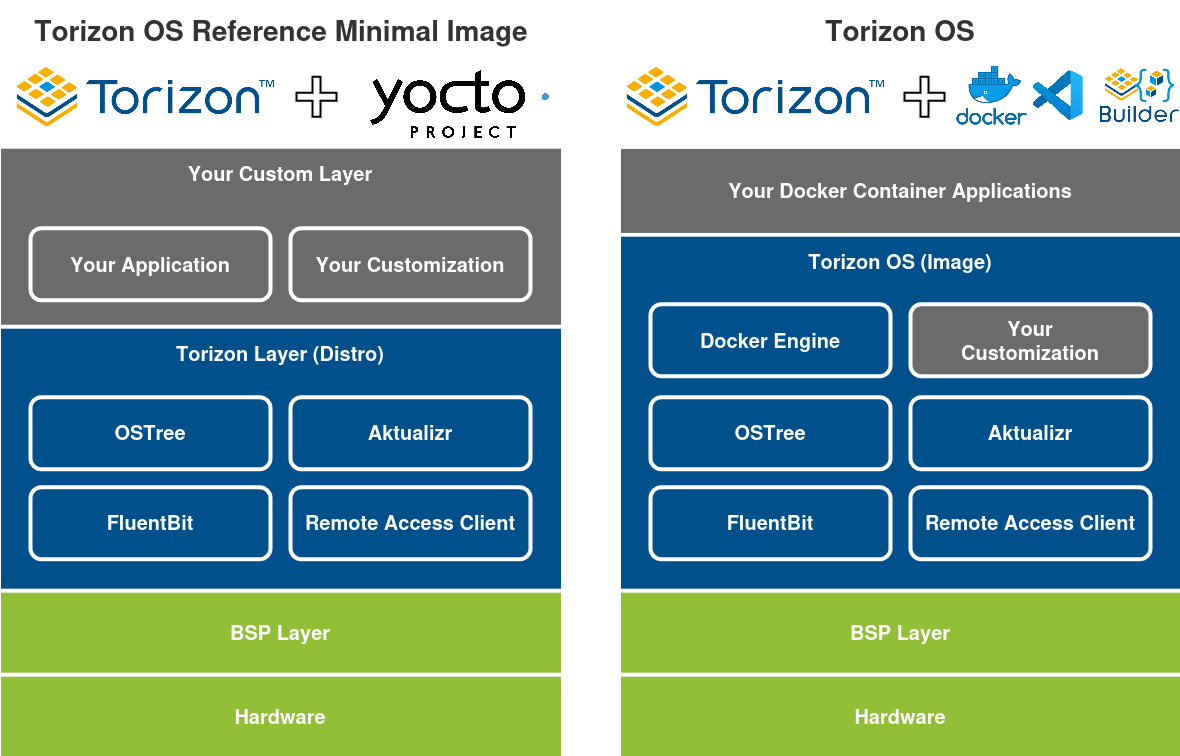 In addition, it also contains the necessary structure to allow you to remotely update your system. For more information, refer to the section Torizon updates: OSTree and Aktualizr.
Furthermore, the notable difference from the Torizon OS is that Torizon OS takes the basic elements of the reference image and adds the container runtime resources, making it a ready-to-use Linux-based operating system for you to develop your application. If you are looking for more information about Torizon OS, refer to Torizon OS Technical Overview.
Some characteristics of the Torizon OS Reference Minimal image:
Linux Kernel​
As can be seen on the diagram of the Architecture section, the main components of the Kernel remain the same for the Torizon OS and the Torizon OS Reference Minimal Image. So, if you are looking for information in this regard, refer to Linux Kernel section on the Torizon OS Technical Overview article.
Torizon updates: OSTree and Aktualizr​
Similar to Torizon OS, the reference image adopts the usage of Aktualizr and OSTree to allow for Remote and Offline Updates
For more information on this topic, refer to Torizon Remote Updates and Secure Offline Updates.
In the future, Toradex plans to support multiple update solutions, allowing customers to choose or implement solutions other than OSTree.