Ixora Carrier Board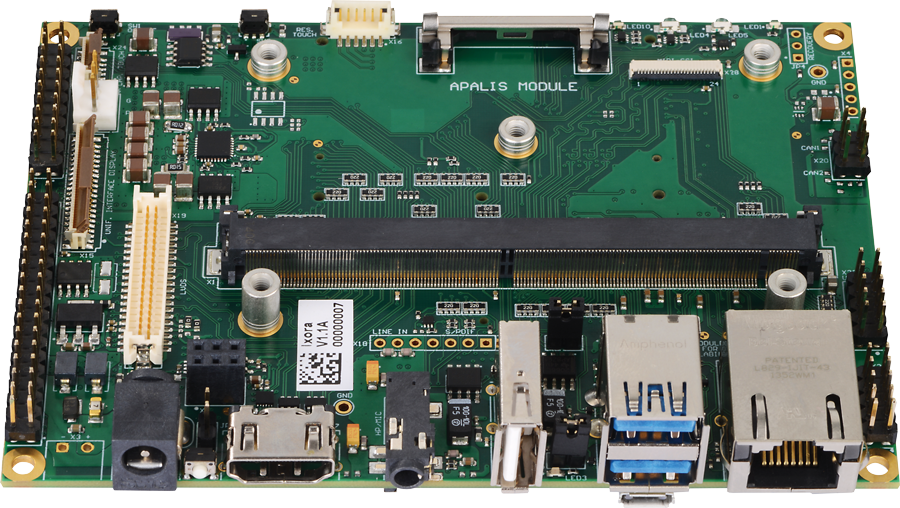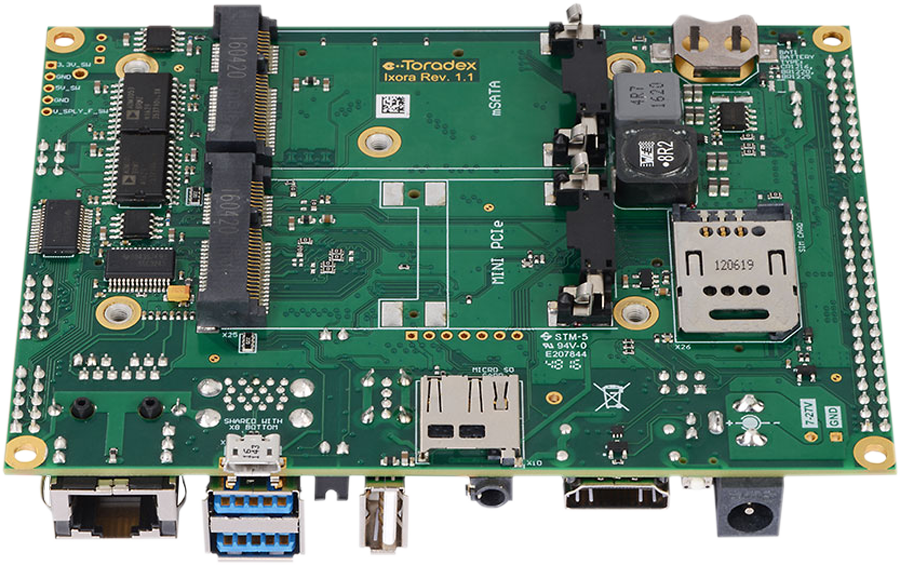 (Double-Click to Zoom)
Getting Started​
This section contains initial information needed to set-up the Ixora Carrier Board for the first time.
Recommendation for a first-time order​
Toradex recommends ordering the following additional products for your first-time order:
All the products can be ordered online at
Toradex Webshop
Getting started for the first time?​
For detailed step-by-step instructions about how to start with both, SoM and Carrier Board, please have a look at our step-by-step Getting-Started Guide:
Product-specific information for the Ixora Carrier Board:
Having trouble?​
Please contact our technical support. Various option of technical support are mentioned in the article below.
Features​
I/O Support​
USB 2.0 (1x Host, 1x OTG )
USB 3.0 (2x Host)
PCIe (1x Mini PCIe)
I2C (2x)
SPI (1x)
UART (3x RS232)
PWM (4x)
GPIO (up to 40)
Analog Input (4x)
Ethernet (1x 10/100/1000 Mbit)
SATA (1x mSATA)
SDIO/SD/MMC (1x 4 Bit MicroSD)
CAN (2x)
LVDS (1x Dual Channel)
S/PDIF In/Out (1x)
HDMI (1x)
RGB (1x 24 Bit)
Resistive Touch (4/5-wire)
Capacitive Touch connector
Camera Parallel Interface (1x)
Camera Serial Interface (1x)
Analog Audio Line in (1x)
Analog Audio Mic in (1x)
Analog Audio Headphone out (1x)
RTC on Board (1x)
Block Diagram​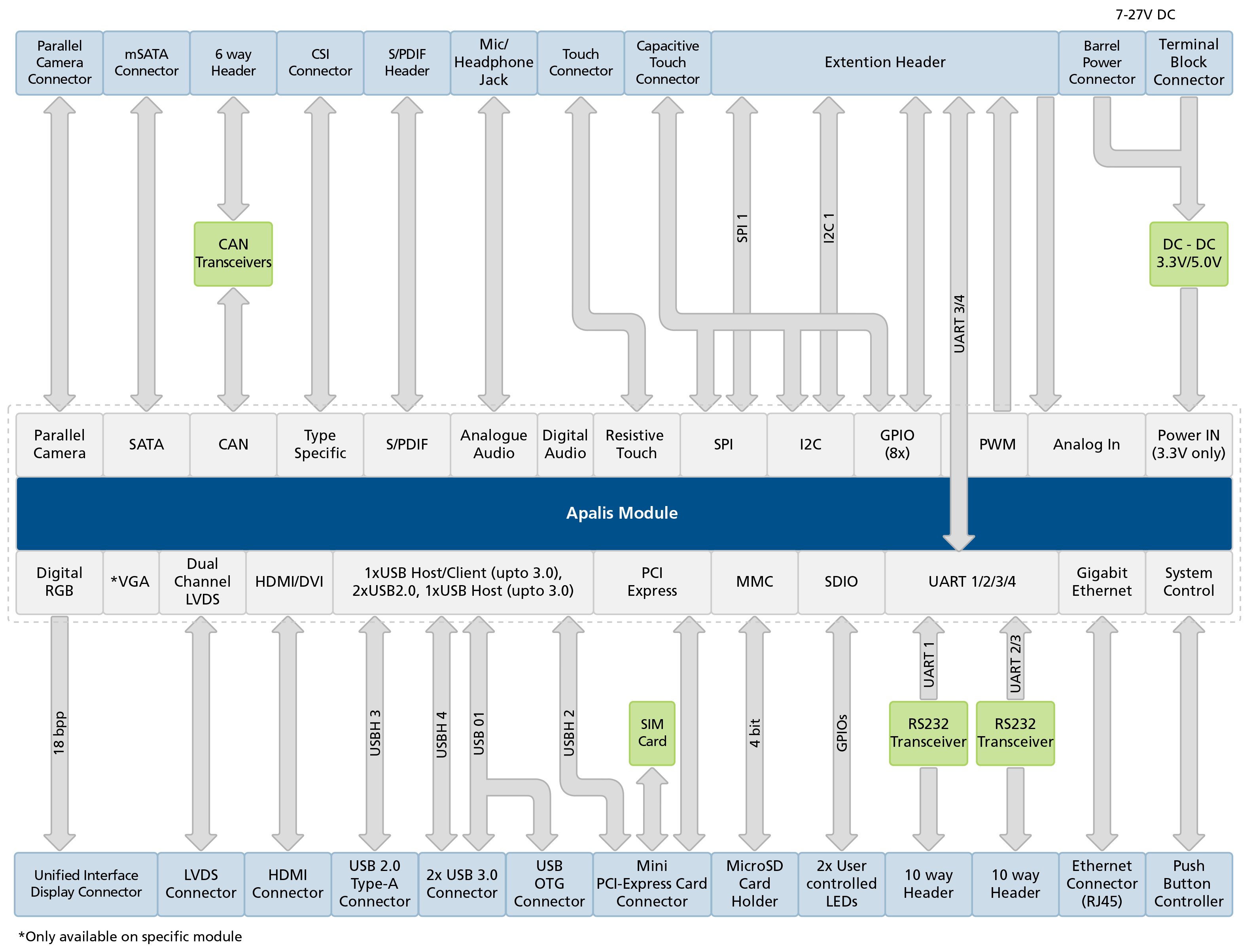 Datasheets​
Ixora V1.2​
Ixora Carrier Board V1.2 Datasheet
Ixora V1.1​
Ixora Carrier Board V1.1 Datasheet
Ixora V1.0​
Ixora Carrier Board V1.0 Datasheet
Design Resources​
Design data Ixora V1.2:​
Design data Ixora V1.1:​
Design data Ixora V1.0:​
Ixora Carrier Board Mechanical Models​
A basic 3D model for the Ixora carrier board can be downloaded here.
here
.
Design and Layout Guide​
Altium Designer​
Compatible Products​
[1] For Ixora V1.0A
Capacitive Touch Adapter
is required, V1.1A or above are directly compatible.
Revision History​
Click to See the Product Numbering Scheme

Product Number (PID8) Format​

The format of the 8-digits Product Number (PID8) is the following:

The below table describes the structure of the Product Number (PID8):

| Field | Description |
| --- | --- |
| PPPP | 4-digits number, indicating the Product Configuration (PID4) that describes the key properties of the product (e.g. Product Group, RAM capacity, etc.) |
| VV | 2-digits number, indicating the Major and Minor Version (in that order) |
| AA | 2-digits number, indicating the Assembly Variant |

See the complete list of available combinations on the Revision History table of the corresponding product page.

Example​

Product number (PID8): 00291100:

0029

: Apalis iMX6D 512MB

11

: Major Version 1, Minor Version 1, Version V1.1 in short

00

: Assembly Variant A
A specific product revision has a lifecycle defined by the product state. Learn more about it on the Product Change Notifications.
Ixora Carrier Board​
PN: 0133
Product #
Product Description
Changes from Previous Version
Release Date
PCN Document
01331000

Ixora V1.0A

Initial Release

2013-09-26

PCN Ixora Carrier Board V1.0A 2017-03-06
01331100

Ixora V1.1A

Swap Apalis USBH2 with USBH3
Use Apalis MMC1 instead of SD1
Use new Micro SD cared holder (higher quality)
Use SD1 pins as GPIOs to control UART2/3_RS232_FOFF#, FACTORY_DEFAULT#, PCIE_WDISABLE#_R, LED_4_RED, and LED_4_GREEN (before MMC1 pins were used)
Add bias-circuit to the microphone input
Connect I2C to the LVDS connector X19 to support EDID
Add new connector X24 for capacitive touch controller support (compatibility with future Toradex display offerings)
Add CSI connector X28
Improve battery holder footprint
Added footprint for recovery mode jumper JP4 (not assembled)
Remove EEPROM (not assembled)
Remove CAN termination resistors
Change USB 5V regulator to supply the minimum requirement of 900mA as required by USB 3.0
Pull-up WAKE1_MICO# to 3.3V instead of 3.3V_SW
Increase the maximum power output (from 15W to 20W)
2017-03-24
PCN Ixora Carrier Board V1.1A 2020-01-09
01331101

Ixora V1.1B

Interim product, only for the Apalis iMX8 Early Access

R9 changed to a 0Ω-resistor for sufficient power supply for the Apalis iMX8

2019-05-07
Interim version, no PCN. For details of changes in V1.2A, see PCN of V1.1A
01331200

Ixora V1.2A


Updated Power Supply
EEPROM assembled by default
New Micro USB connector
New Ethernet connector for Industrial Temperature compliance
New Voltage Level translator and ESD protection solution on HDMI interface
Modified SD card circuit
Load switch ICs added to control CAN1 and CAN2 interface power rails
Additional capacitors C162, C163, C164, and C165 (not assembled by default) to 3.3V_PCIE1 and 3.3V_mSATA1 power rails
Shared pads resistors connected to SD1_CD# / MXM3_190 pin to eliminate false interrupts
Improved EMC design

2020-01-09
 
Errata/Known issues​
Errata Document​