Verdin AM62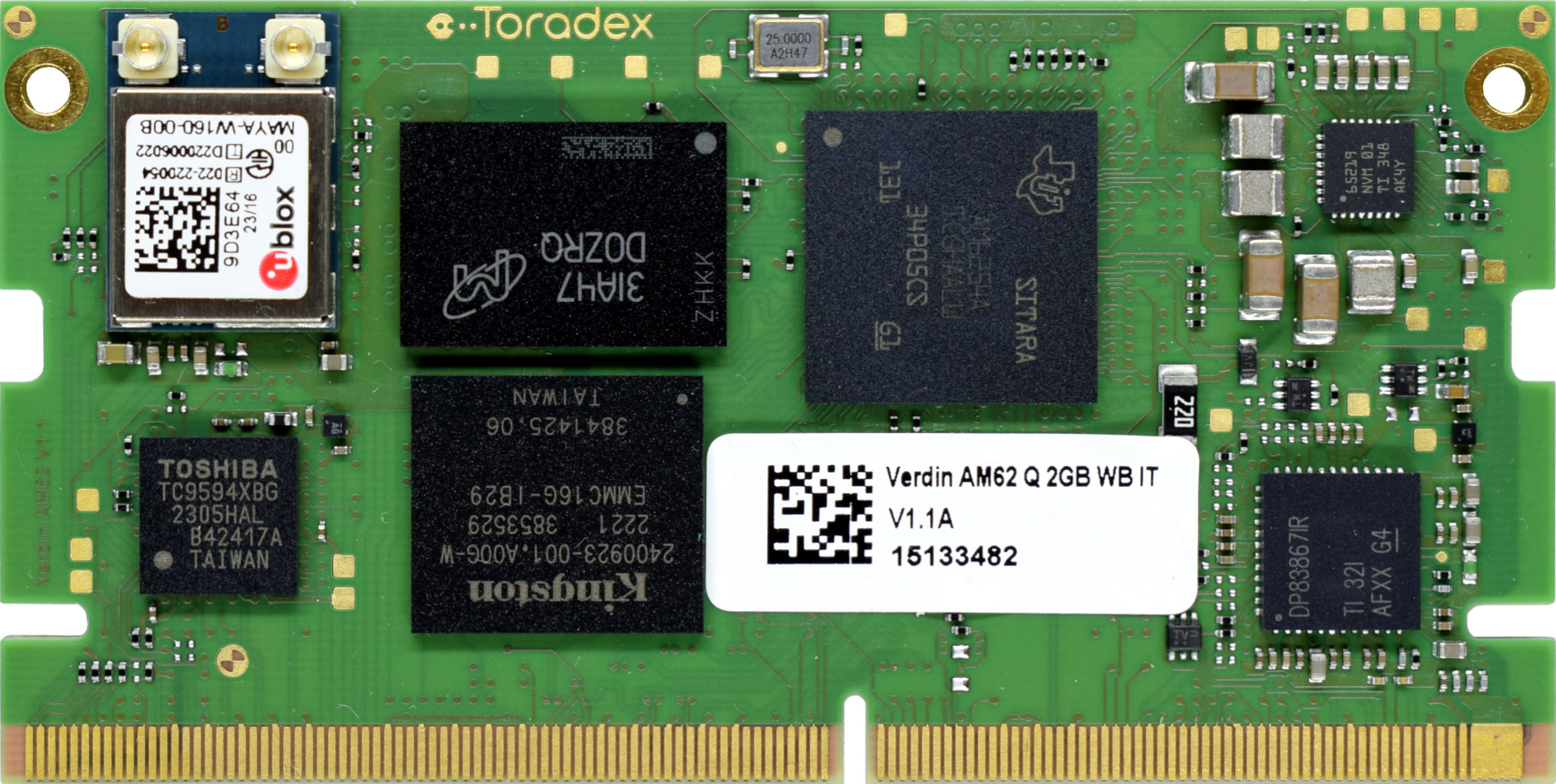 (Double-Click to Zoom)
Getting Started​
Verdin AM62 is a member of the Verdin Family. You will find all technical details such as features, datasheets, software, etc. here.
Recommendation for a first-time order​
For starting for the first time with your Verdin AM62 you will need a suitable Verdin carrier board as well as some adapters and cables for connecting your desired interfaces.
Toradex recommends ordering one of the following carrier boards for your first-time order:
Where do I buy this product?​
You will find availability and purchase information for Verdin AM62 module, Yavia, Dahlia Carrier Board and Verdin Development Board on the Toradex webshop.
Getting started​
The Verdin AM62 will provide experience similar to the other members of the Verdin Family, with Toradex Easy Installer pre-installed, and step-by-step instructions about how to start using Torizon in our Quickstart Guide.
For detailed instructions about how to start developing your software for this Computer on Module, check out our software page.
The following Linux-based offerings will be supported soon:
Datasheets​
Module's Datasheet​
Verdin AM62 V1.0 Preliminary Datasheet
Verdin Specifications​
Additional Resources​
3D Models​
General Verdin 3D Mechanical Models​
The basic Verdin 3D model contains the PCB and the maximum component height on top and bottom of the module.

This is a SolidWorks CAD model. You can download the free eDrawings model viewer from SolidWorks here.

Carrier Boards​
Off-the-shelf Carrier Boards​
Learn more on the Verdin Product Family Specification Update.
Custom Carrier Board Design​
Find free reference designs, schematics, 3D designs, and tools to build your carrier board easily in the link below:
Upverter​
Upverter is an online carrier board design tool that simplifies carrier board design and software support at the BSP level. The tool is available on the Toradex developer website:
Accessories​
Revision History​
Click to See the Product Numbering Scheme

Product Number (PID8) Format​

The format of the 8-digits Product Number (PID8) is the following:

The below table describes the structure of the Product Number (PID8):

| Field | Description |
| --- | --- |
| PPPP | 4-digits number, indicating the Product Configuration (PID4) that describes the key properties of the product (e.g. Product Group, RAM capacity, etc.) |
| VV | 2-digits number, indicating the Major and Minor Version (in that order) |
| AA | 2-digits number, indicating the Assembly Variant |

See the complete list of available combinations on the Revision History table of the corresponding product page.

Example​

Product number (PID8): 00291100:

0029

: Apalis iMX6D 512MB

11

: Major Version 1, Minor Version 1, Version V1.1 in short

00

: Assembly Variant A
A specific product revision has a lifecycle defined by the product state. Learn more about it on the Product Change Notifications.
Errata/Known issues​
SoC Errata​
SoM Errata Documents​
Hardware Errata/Known issues​
Software Issue Tracker - Verdin AM62​
info
Software Issue Tracker information for Verdin AM62 will be available soon.