Verdin iMX8M Plus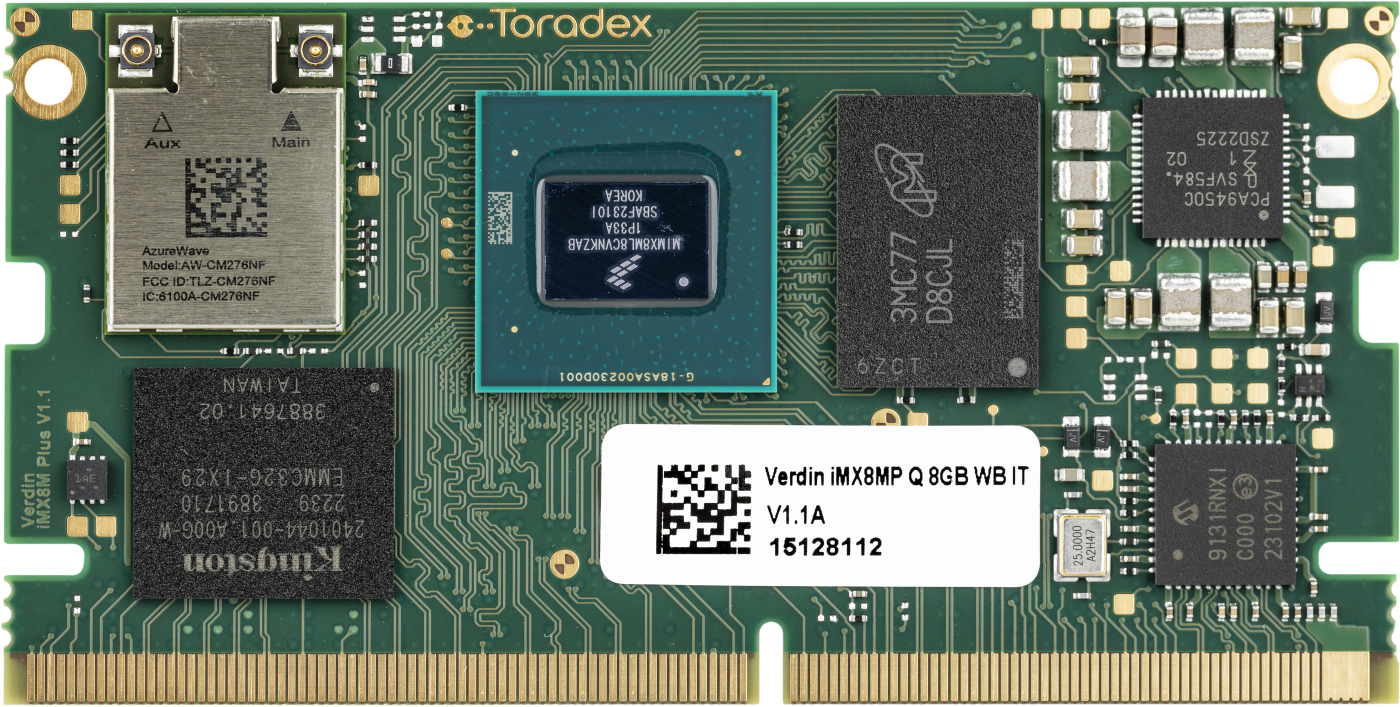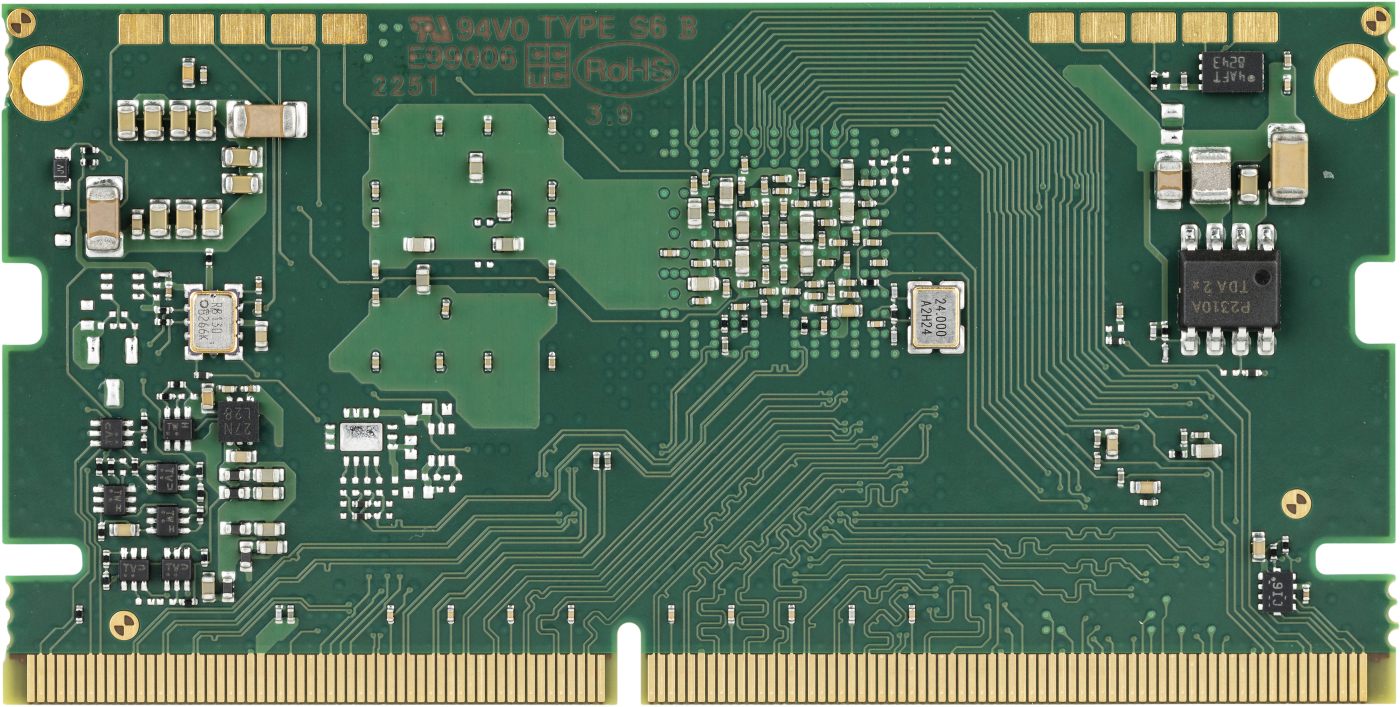 (Double-Click to Zoom)
Getting Started​
Verdin iMX8M Plus is a member of the Verdin Family. You will find all technical details such as features, datasheets, software, etc. here.
Recommendation for a first-time order​
For starting for the first time with your Verdin iMX8M Plus you will need a suitable Verdin carrier board as well as some adapters and cables for connecting your desired interfaces.
Toradex recommends to order one of the following carrier boards for your first-time order:
Where do I buy this product?​
You can buy the Verdin iMX8M Plus module, Dahlia Carrier Board and Verdin Development Board from the Toradex webshop.
Getting started for the first time?​
For quickstart step-by-step instructions, please have a look at our step-by-step Quickstart Guide:
The Verdin iMX8M Plus comes with Toradex Easy Installer pre-installed. Once you power-on the board, it will display a list of available images to be installed. Check out how to get started with the Toradex Easy Installer:
Additional information​
For information on how to re-flash an operating system or image on the computer on module please check the Toradex Easy Installer article:
We have quick video tutorials:
Having trouble?​
Please contact our technical support. Various option of technical support are mentioned below:
Hardware​
Check the hardware features on the product page in toradex.com:
Software​
Get details including free downloads of images and BSPs for operating systems supported by Verdin iMX8M Plus.
In-house development and support​
The following Linux-based offerings are currently supported:
For detailed instructions about how to start developing your software for this Computer on Module, check out our software page.
Datasheets​
Verdin iMX8M Plus V1.1​
Verdin iMX8M Plus V1.1 Datasheet
Verdin iMX8M Plus V1.0​
Verdin iMX8M Plus V1.0 Datasheet
Verdin Specifications​
Additional Resources​
3D Models​
General Verdin 3D Mechanical Models​
The basic Verdin 3D model contains the PCB and the maximum component height on top and bottom of the module.

This is a SolidWorks CAD model. You can download the free eDrawings model viewer from SolidWorks here.

Verdin iMX8M Plus 3D Mechanical Models​
The Verdin iMX8M Plus 3D model is simplified and contains only the PCB and the CPU. It is intended to be used for heat spreader or heat sink designs. The CPU height is a typical value. Due to production tolerances, the actual height of the assembled component can be different. Please use the generic Verdin mechanical model with the maximum component height for testing the mechanical fit. This ensures the mechanical design fits all current Verdin modules as well as future releases.
This is a SolidWorks CAD model. You can download the free eDrawings model viewer from SolidWorks here.
This is a generic STEP model that can be opened and modified in any 3D CAD.
This is a generic 3D pdf model that can be opened in Adobe Reader.
Carrier Boards​
Off-the-shelf Carrier Boards​
Custom Carrier Board Design​
Find free reference designs, schematics, 3D designs and tools to build your carrier board easily in the link below:
Upverter​
Upverter is an online carrier board design tool that simplifies carrier board design and software support at the BSP level. The tool is available on the Toradex developer website:
Accessories​
[1] This product reached End-of-Life (EOL) and is not available for purchase anymore.
Revision History​
Click to See the Product Numbering Scheme

Product Number (PID8) Format​

The format of the 8-digits Product Number (PID8) is the following:

The below table describes the structure of the Product Number (PID8):

| Field | Description |
| --- | --- |
| PPPP | 4-digits number, indicating the Product Configuration (PID4) that describes the key properties of the product (e.g. Product Group, RAM capacity, etc.) |
| VV | 2-digits number, indicating the Major and Minor Version (in that order) |
| AA | 2-digits number, indicating the Assembly Variant |

See the complete list of available combinations on the Revision History table of the corresponding product page.

Example​

Product number (PID8): 00291100:

0029

: Apalis iMX6D 512MB

11

: Major Version 1, Minor Version 1, Version V1.1 in short

00

: Assembly Variant A
A specific product revision has a lifecycle defined by the product state. Learn more about it on the Product Change Notifications.
0070 Verdin iMX8M Plus Quad 8GB WB IT​
Product #
Product Description
Changes from Previous Version
Release Date
Related Documents
00701100

Verdin iMX8M Plus Quad 8GB WB IT V1.1A

- Initial Release
- Based on the 00581100 Verdin iMX8M Plus Quad 4GB WB IT V1.1A (see the related revision history entry below)
- RAM capacity has been changed to 8GB (MT53E2G32D4DE-046 AIT:C)
- Temperature Sensor TMP1075DSGR assembled on SoM

Q3, 2023


Verdin Product Family Specification



0058 Verdin iMX8M Plus Quad 4GB WB IT​
Product #
Product Description
Changes from Previous Version
Release Date
Related Documents
00581001

Verdin iMX8M Plus Quad 4GB WB IT V1.0B

Initial Release

Q2, 2020


Verdin Product Family Specification Update



00581002

Verdin iMX8M Plus Quad 4GB WB IT V1.0C

- Special development version with limited temperature range support (0°C to 70°C)
- Replace SoC: PIMX8ML8CVNKZAB with PIMX8ML8DVNLZAB
- Resolve the Bluetooth host interface strapping issue HAR-8341 (see the "Errata/Known issues" section for more details)
- Other minor improvements

Q3, 2021

PCN Verdin iMX8M Plus Quad 4GB WB IT V1.0C 2022-06-07
00581003

Verdin iMX8M Plus Quad 4GB WB IT V1.0D

- Regular version with full temperature range support (-40°C to +85°C)
- Replace SoC: PIMX8ML8DVNLZAB with MIMX8ML8CVNKZAB

Q3, 2021

PCN Verdin iMX8M Plus Quad 4GB WB IT V1.0D 2022-06-07
00581004

Verdin iMX8M Plus Quad 4GB WB IT V1.0E

- Replaced the eMMC MTFC16GAPALBH-IT with MTFC16GAPALBH-AAT (using the latter as a temporary solution for increasing the availability of the product)

Q1, 2022

PCN Verdin iMX8M Plus Quad 4GB WB IT V1.0E 2022-06-07
00581100

Verdin iMX8M Plus Quad 4GB WB IT V1.1A

- The PCB design has been updated
- The eMMC capacity has been increased from 16GB to 32GB
- The eMMC part Micron MTFC16GAPALBH-IT (2D MLC) has been replaced with the Kingston EMMC32G-IX29-8AC01 (3D TLC)
- The host controller interface of the Bluetooth module has been changed from SDIO to a full-featured UART interface (including flow control signals, served by the UART4 SoC interface)
- The functionality of the Verdin USB_1_ID pin (pin 161 of the edge connector) has been restored (resolves HAR-6503, see the "Errata/Known issues" section for more details)
- The ECSPI2 SoC pins have been eliminated from the Module-specific pins MSP_13, MSP_18, MSP_28, and MSP_33
- The SoC pins serving the Verdin USB_2_OC# (pin 187 of the edge connector) and CSI_1_MCLK (pin 91 of the edge connector) pins have been swapped (resolves HAR-6498, see the "Errata/Known issues" section for more details)
- The RX and TX signals of the I2S interface connected to the Bluetooth solution have been swapped on the SoC side (resolves HAR-6336, see the "Errata/Known issues" section for more details)
- An assembly option for a PCB temperature sensor has been added (not assembled)
- An assembly option for the ST ST33GTPMII2C TPM has been added (not assembled)
- The assembly option for the Microchip ATTPM20 TPM has been eliminated
- Other minor fixes and improvements

Q2 2022
0063 Verdin iMX8M Plus Quad 4GB IT​
Product #
Product Description
Changes from Previous Version
Release Date
Related Documents
00631100

Verdin iMX8M Plus Quad 4GB IT V1.1A

- Initial Release
- Based on the 00581100 Verdin iMX8M Plus Quad 4GB WB IT V1.1A (see the related revision history entry above)
- The Wi-Fi/Bluetooth solution has been eliminated
- The ECSPI2 SoC pins have been kept available on the Module-specific pins MSP_13, MSP_18, MSP_28, and MSP_33

Q2 2022
0064 Verdin iMX8M Plus Quad 2GB WB IT​
Product #
Product Description
Changes from Previous Version
Release Date
Related Documents
00641100

Verdin iMX8M Plus Quad 2GB WB IT V1.1A

- Initial Release
- Based on the 00581100 Verdin iMX8M Plus Quad 4GB WB IT V1.1A (see the related revision history entry above)
- Changed SoC part number to NXP MIMX8ML6CVNKZAB (quad core, ISP, VPU, CAN-FD, IT, no NPU, no audio DSP)
- RAM capacity has been changed to 2GB (MT53E512M32D1ZW-046 IT:B)
- eMMC capacity has been changed to 16GB (EMMC16G-IB29-90F01)
- Temperature Sensor TMP1075DSGR assembled on SoM

Q4 2023


Verdin Product Family Specification



0065 Verdin iMX8M Plus QuadLite 1GB IT​
Product #
Product Description
Changes from Previous Version
Release Date
Related Documents
00651100

Verdin iMX8M Plus QuadLite 1GB IT V1.1A

-Initial Release
-Based on the 00631100 Verdin iMX8M Plus Quad 4GB WB IT V1.1A (see the related revision history entry above)
-Changed SoC part number to NXP MIMX8ML4CVNKZAB (quad core, no ISP, no VPU,no NPU, no audio DSP, CAN-FD, IT)
-RAM capacity has been changed to 1GB (MT53E256M32D2DS-046 IT:B)
-eMMC capacity has been changed to 8GB (MTFC8GAKAJCN-4M IT)
-Temperature Sensor TMP1075DSGR assembled on SoM

Q4 2023


0061 Verdin iMX8M Plus Quad 2GB (Obsolete)​
| | | | | |
| --- | --- | --- | --- | --- |
| Product # | Product Description | Changes from Previous Version | Release Date | Related Documents |
| 00611001 | Verdin iMX8M Plus Quad 2GB V1.0B | Initial Release, Obsolete | Q2, 2020 | |
Errata/Known issues​
SoC Errata​
SoM Errata Documents​
Hardware Errata/Known Issues​
Software Issue Tracker - Verdin iMX8M Plus​