Colibri Evaluation Board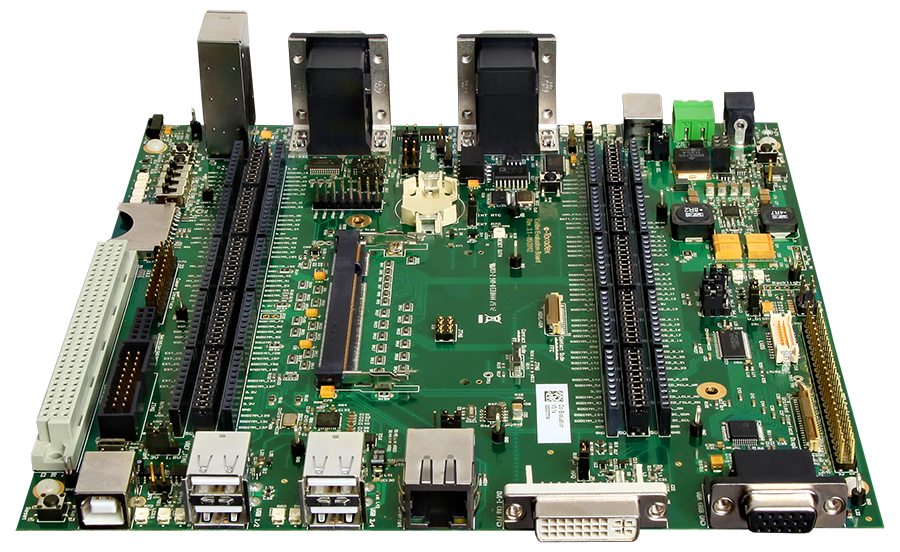 (Double-Click to Zoom)
Getting Started​
Recommendation for a first-time order​
Toradex recommends to order the following additional products for your fist-time order:
All the products can be ordered online at
Toradex Webshop
Getting started for the first time?​
For detailed step-by-step instructions about how to start with both, SoM and Carrier Board, please have a look at our step-by-step Getting-Started Guide:
Having trouble?​
Please contact our technical support. Various option of technical support are mentioned in the article below.
Features​
I/O Support​
Up to 32 Bit External Bus
USB 2.0 (4x Host, 1x OTG, 1x Device )
I2C (4x)
SPI (4x)
UART (2x RS232, 1x RS422/485)
IrDA (1x)
PWM (4x)
GPIO (up to 158)
Analog Input (4x)
Ethernet (1x 10/100 Mbit)
SDIO/SD/MMC (1x 4 Bit)
CAN (1x)
LVDS (1x Single Channel)
HDMI (1x)
VGA (1x)
RGB (1x 24/18 Bit)
Resistive Touch (4/5-wire)
Camera Parallel Interface (1x)
Analog Audio Line in (1x)
Analog Audio Mic in (1x)
Analog Audio Headphone out (1x)
USB-to-RS232 Transceiver (1x)
RTC on Board (1x)
JTAG
Block Diagram​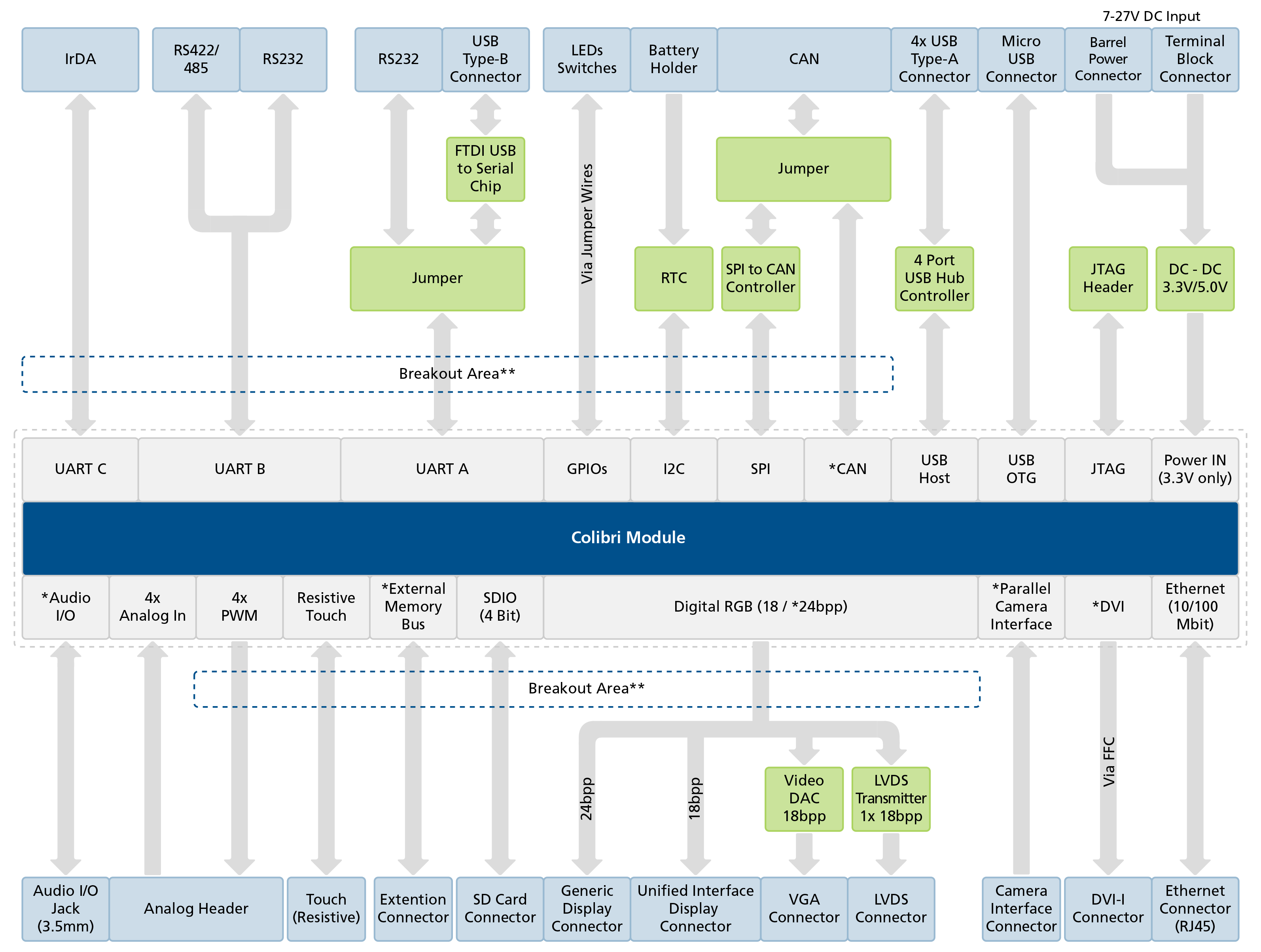 * This is a module-specific feature and may not be supported by all the computer-on-modules in the Colibri family. For more details, refer to the datasheet of Colibri computer-on-modules
** The breakout/jumper area provides a flexible mechanism for changing the hardware configuration or signal routing for any external circuit
Datasheets​
Colibri Evaluation Board Datasheet
Archive​
Design Resources​
Design data Colibri Evaluation Board V3.2​
Design data Colibri Evaluation Board Archive​
Colibri Evaluation Board Mechanical Models​
A basic 3D model for the Colibri Evaluation Board can be downloaded here
This is a SolidWorks CAD model. You can download the free eDrawings model viewer from SolidWorks here.
Design and Layout Guide​
Altium Designer​
Compatible Products​
[1]
Capacitive Touch Adapter
is required
Revision History​
Click to See the Product Numbering Scheme

Product Number (PID8) Format​

The format of the 8-digits Product Number (PID8) is the following:

The below table describes the structure of the Product Number (PID8):

| Field | Description |
| --- | --- |
| PPPP | 4-digits number, indicating the Product Configuration (PID4) that describes the key properties of the product (e.g. Product Group, RAM capacity, etc.) |
| VV | 2-digits number, indicating the Major and Minor Version (in that order) |
| AA | 2-digits number, indicating the Assembly Variant |

See the complete list of available combinations on the Revision History table of the corresponding product page.

Example​

Product number (PID8): 00291100:

0029

: Apalis iMX6D 512MB

11

: Major Version 1, Minor Version 1, Version V1.1 in short

00

: Assembly Variant A
A specific product revision has a lifecycle defined by the product state. Learn more about it on the Product Change Notifications.
Colibri Evaluation Board​
PN: 0101
Product #
Product Description
Changes from Previous Version
Release Date
PCN Document
01012102
Colibri Evaluation Board V2.1C
Initial Version
2006
PCN Colibri Evaluation Board V2.1C 2012-09-21
01013100
Colibri Evaluation Board V3.1A
Rearranged many connectors
Support for USB 2.0 HighSpeed
Support for DVI-I
Support for LVDS
Support for RS422/485
Changed CAN controller, using SPI now
Removed PCMCIA interface (CF-Card)
2012-09-12
Evaluation Product, No PCN

01013200

Colibri Evaluation Board V3.2A

Improved flexibility:
- Added jumper for CAN RX and TX


- Added jumper for Ethernet TX Center Tap


- Connected RTS and CTS of the debug serial port to the USB to Serial port (X27)
- Camera Interface connector X22 pin-out has been updated to be compatible with Apalis Evaluation Board


2014-11-30
PCN Colibri Evaluation Board V3.2A 2016-06-03

01013201

Colibri Evaluation Board V3.2B

Correction of Errata: Correct Audio Connector (X26) assembled



2016-03-11
 
Errata​