Colibri T20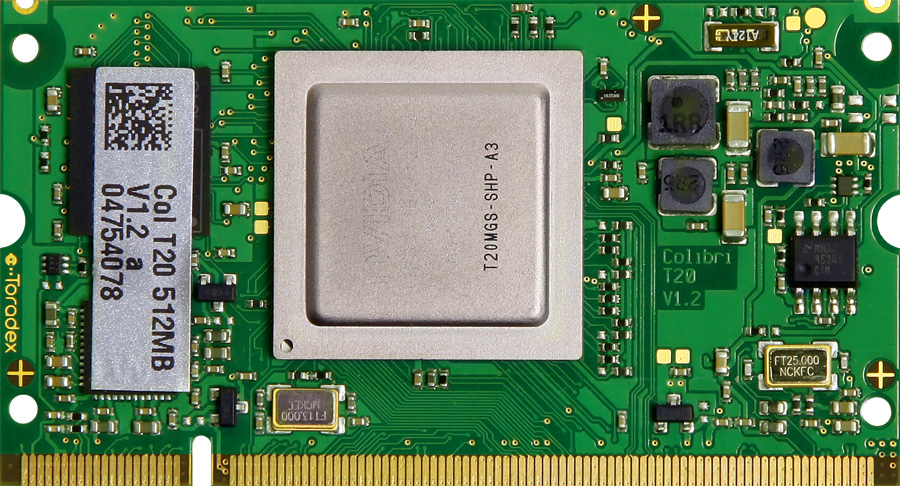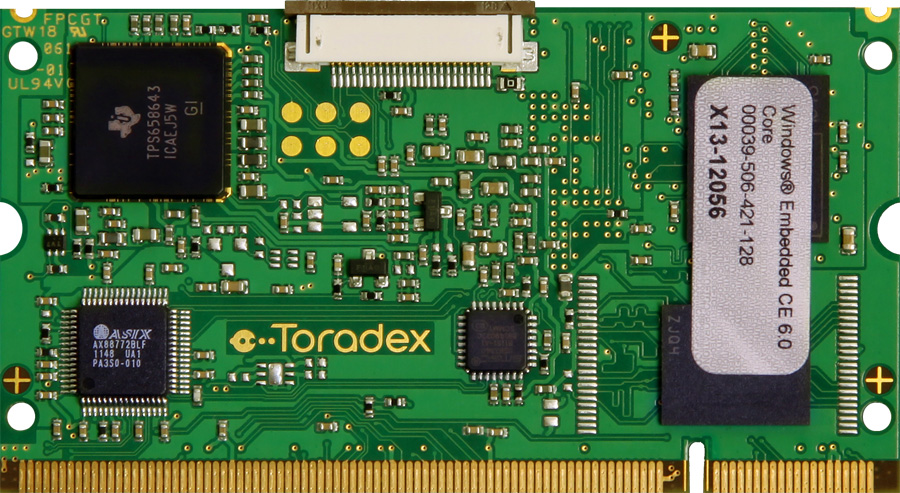 (Double-Click to Zoom)
caution
Colibri T20 is a discontinued (EOL) product, see "Revision History" for details. Toradex prepared a guide that helps customers using end-of-life (EOL) Tegra products migrate to recommended hardware and software solutions for their products. For more information, consult the Tegra Migration Guide.
Getting Started​
Colibri T20 is a member of the Colibri family. You will find all technical details such as features, datasheets, software, etc. here.
Recommendation for a first-time order (Not Recommended For New Designs)​
Not Recommended For New Designs: Given supply chain uncertainty with this product, we advise switching to another Toradex product.
For starting for the first time with your Colibri T20 you will need a suitable Colibri Carrier Board as well as some adapters and cables for connecting your desired interfaces.

Toradex recommends to order the following accessories for your fist-time order:
You can buy the Colibri T20 module, Colibri Evaluation Board and Carrier Board Accessory Kit from the
Toradex webshop
.
Getting started for the first time?​
For detailed step-by-step instructions about how to start using Embedded Linux, please have a look at our step-by-step Getting-Started Guide:
Additional information​
For information on how to update the module's Operating System, or change from Embedded Linux to Windows CE and vice-versa, please check the article below:
We also have quick video tutorials on our Youtube Channel:
For developing software on the platform, please browse through the list of knowledge-base articles provided in the link below:
Having trouble?​
Please contact our technical support. Various option of technical support are mentioned in the article below.
Features​
Processor​
NVIDIA Tegra 2 dual-core Cortex-A9
1.0 GHz operational frequency
L1 Instruction Cache(each core) = 32KB
L1 Data Cache(each core) = 32KB
L2 Cache(shared by cores) = 1MB
VFPv3-D16 Floating Point Unit (Double Precision)
Memory​
256MB/512MB DDR2 (32 Bit) RAM
512MB/1GB NAND Flash (8 Bit) Flash
Interfaces​
32 Bit Data Bus
USB (1x Host, 1x OTG)
I2C (3x)
SPI (5x)
One-wire (1x)
UART (5x)
IrDA (1x)
PWM (4x)
Up to 153 GPIOs
Analog Input (4x 12 Bit)
Ethernet (1x 10/100 Mbit)
SDIO/SD/MMC (4x 8 Bit)
S/PDIF (1x)
HDMI (V1.3 1080p)
VGA (1600x1200)
RGB (1920x1200x24bpp)
Resistive Touch (4/5-wire)
Camera Parallel Interface (1x)
Analog Audio Line in (1x, Stereo)
Analog Audio Mic in (1x, Mono)
Analog Audio Headphone out (1x, Stereo)
Supported operating systems​
Datasheets​
Module's Datasheet​
Additional Resources​
Software​
Get details including free downloads of images and BSPs for operating systems supported by Colibri T20.
3D Models​
General Colibri 3D Mechanical Models​
The basic Colibri 3D model contains the PCB and the maximum component height on top and bottom of the module.

This is a SolidWorks CAD model. You can download the free eDrawings model viewer from SolidWorks here.

Carrier Boards​
Off-the-shelf Carrier Boards​
From Toradex​
From Partners​
Custom Carrier Board Design​
Find free reference designs, schematics, 3D designs and tools to build your carrier board easily in the link below.
Accessories​
Revision History​
Click to See the Product Numbering Scheme

Product Number (PID8) Format​

The format of the 8-digits Product Number (PID8) is the following:

The below table describes the structure of the Product Number (PID8):

| Field | Description |
| --- | --- |
| PPPP | 4-digits number, indicating the Product Configuration (PID4) that describes the key properties of the product (e.g. Product Group, RAM capacity, etc.) |
| VV | 2-digits number, indicating the Major and Minor Version (in that order) |
| AA | 2-digits number, indicating the Assembly Variant |

See the complete list of available combinations on the Revision History table of the corresponding product page.

Example​

Product number (PID8): 00291100:

0029

: Apalis iMX6D 512MB

11

: Major Version 1, Minor Version 1, Version V1.1 in short

00

: Assembly Variant A
A specific product revision has a lifecycle defined by the product state. Learn more about it on the Product Change Notifications.
0020 Colibri T20 256MB​
0024 Colibri T20 256MB IT​
0021 Colibri T20 512MB​
0022 Colibri T20 512MB IT​
Errata/Known issues​
SoC Errata​
Specific SoC errata documents are not easily available, due to this being a mature offering by NVIDIA. You can browse the pages below for some information:
Software Issue Tracker - Colibri T20​