Colibri PXA270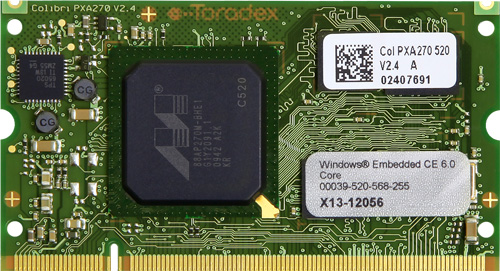 (Double-Click to Zoom)
Getting Started​
caution
Please note that this Product is no longer available for purchase.
Colibri PXA270 is a member of the Colibri family. You will find all technical details such as features, datasheets, software, etc. here.
What do I need to order?​
You will need to order a suitable carrier board. We recommend you order the Colibri Evaluation Board for easy evaluation of Colibri interfaces.
Do I need anything else in addition?​
The Carrier Board Accessory Kit includes:
Cables: USB, Ethernet, RS232, Jumper Wires
Adapters: DVI to VGA, HDMI to DVI, USB to RS232, USB Micro-A to A (USB Micro-AB receptacle to Type A), RS232 Header to D-Sub, Iris Power-adapter
Power Adapter: 12VDC 30W with international plugs
Product Flyer with cable connection details
Where do I buy?​
You can buy the Colibri PXA270 module, Colibri Evaluation Board and Carrier Board Accessory Kit from the Toradex webshop.
Starting for the first time?​
The initial steps before starting your application development depends on the Carrier Board and Operating System, you would like to use along with the module. For all details, please check the article below to set up the module correctly.
We also have quick video tutorials.
For developing software on the platform, please get all the details below.
Having trouble?​
Please contact our technical support. Various option of technical support are mentioned in the article below.
Features​
Processor​
Marvell PXA270 - Intel XScale Arm (312/520MHz)
L1 Instruction cache = 32KB
L1 Data cache = 32KB
Memory​
64MB SDRAM (32 Bit) RAM
32MB NOR (32 Bit) Flash
Interfaces​
32 Bit External Bus
USB 2.0 (1x Host, 1x OTG)
I2C (1x)
SPI (3x)
Compact Flash (1x)
UART (3x)
IrDA (1x)
PWM (4x)
GPIOs (up to 85)
Analog Input (4x 12 Bit)
Ethernet (1x 10/100 Mbit)
SDIO/SD/MMC (1x 4 Bit)
RGB (1024x768x18bpp)
Resistive Touch (4/5-wire)
Camera Parallel Interface (1x)
Analog Audio Line in (Stereo)
Analog Audio Mic in (Mono)
Analog Audio Headphone out (Stereo)
Supported operating systems​
Datasheets​
Module's Datasheet​
Technical Manuals​
3rd Party Components' Datasheets​
Additional Resources​
Software​
Get details including free downloads of images and BSPs for operating systems supported by Colibri PXA270
In-house development and support​
3D Models​
General Colibri 3D Mechanical Models​
The basic Colibri 3D model contains the PCB and the maximum component height on top and bottom of the module.
here
.
Carrier Boards​
Off-the-shelf Carrier Boards​
From Toradex​
From Partners​
Custom Carrier Board Design​
Find free reference designs, schematics, 3D designs and tools to build your carrier board easily in the link below.
Accessories​
Revision History​
Colibri PXA270 312MHz​
Product #
Product Description
Changes from Previous Version
Release Date
PCN Document
00011000
Colibri PXA270 312MHz V1.0A
Initial Release
PMIC: MAX1587
NOR Flash: J3
WinCE license label: V5.0
SODIMM: 2.5V (DDR1) and 1.8V (DDR2) keying
2005-05-16
 
00011001
Colibri PXA270 312MHz V1.0B
RoHS compliancy
2005-08-30
 
00011002
Colibri PXA270 312MHz V1.0C
Changes in the audio supply
SODIMM: 2.5V keying (DDR1) only
2005-12-27
 
00011003
Colibri PXA270 312MHz V1.0D
Changed series resistor value
2006-04-05
(reworked V1.0c)
 
00011200
Colibri PXA270 312MHz V1.2A
PMIC: TPS65020
GPIO`50` is muxed with UIO 
Reset is generated by VBat
VRTC is switched by PMIC
2006-10-07
 
00011202
Colibri PXA270 312MHz V1.2C
NOR Flash: P30
2006-09-25
 
00011203
Colibri PXA270 312MHz V1.2D
NOR Flash: J3
WinCE license label: V6.0
2007-08-04
PCN Colibri PXA270 312MHz V1.2D 2010-09-14
00082100
Colibri PXA270 312MHz V2.1A
NOR Flash: Numonyx StrataFlash P33
Audio: Wolfson WM9715L replaced NXP UCB1400
SODIMM pin 95 can be used as RDY signal
2010-05-25
PCN Colibri PXA270 312MHz V2.1A 2010-09-14
00082201
Colibri PXA270 312MHz V2.2B
Changed Ethernet CS pull-up from 100k to 22k PCB optimizations for production
2010-09-14
PCN Colibri PXA270 312MHz V2.2B 2012-05-25
00082400
Colibri PXA270 312MHz V2.4A
Changed from PXA270 stepping C0 to PXA270M stepping A1
Optimized power-up circuit for shorter reset time
2012-05-25
PCN Colibri PXA270 312MHz V2.4A 2015-03-30
00082402

Colibri PXA270 312MHz V2.4C

Using Etron SDRAM instead of Fidelix SDRAM
Validated Wolfson WM9712L as a drop-in replacement for Wolfson WM9715L audio codec
2015-04-30
Colibri PXA270 520MHz​
Product #
Product Description
Changes from Previous Version
Release Date
PCN Document
00021000
Colibri PXA270 520MHz V1.0A
Initial Release
PMIC: MAX1587
NOR Flash: J3
WinCE license label: V5.0
SODIMM: 2.5V (DDR1) and 1.8V (DDR2) keying
2005-05-16
 
00021001
Colibri PXA270 520MHz V1.0B
RoHS compliancy
2005-08-30
 
00021002
Colibri PXA270 520MHz V1.0C
Changes in the audio supply
SODIMM: 2.5V keying (DDR1) only
2005-12-27
 
00021003
Colibri PXA270 520MHz V1.0D
Changed series resistor value
2006-04-05
(reworked V1.0c)
 
00021200
Colibri PXA270 520MHz V1.2A
PMIC: TPS65020
GPIO`50` is muxed with UIO
Reset is generated by VBat
VRTC is switched by PMIC
2006-10-07
 
00021201
Colibri PXA270 520MHz V1.2B
 
No release
 
00021202
Colibri PXA270 520MHz V1.2C
P30 Flash (32MB)
2006-09-25
 
00021203
Colibri PXA270 520MHz V1.2D
NOR Flash: J3
WinCE license label: V6.0
2007-08-04
PCN Colibri PXA270 520MHz V1.2D 2010-09-14
00092100
Colibri PXA270 520MHz V2.1A
NOR Flash: Numonyx StrataFlash P33
Audio: Wolfson WM9715L replaced NXP UCB1400
SODIMM pin 95 can be used as RDY signal
2010-05-25
PCN Colibri PXA270 520MHz V2.1A 2010-09-14
00092201
Colibri PXA270 520MHz V2.2B
PCB optimizations for production
Changed Ethernet CS pull-up from 100k to 22k
Processor: PXA270
2010-09-14
PCN Colibri PXA270 520MHz V2.2B 2012-05-25
00092400
Colibri PXA270 520MHz V2.4A
Changed from PXA270 stepping C0 to PXA270M stepping A1
Optimized power-up circuit for shorter reset time
2012-05-25
PCN Colibri PXA270 520MHz V2.4A 2015-03-30
00092402

Colibri PXA270 520MHz V2.4C

Using Etron SDRAM instead of Fidelix SDRAM
Validated Wolfson WM9712L as a drop-in replacement for Wolfson WM9715L audio codec
2015-04-30
Errata​
None