Version: 5.0
Loading Toradex Easy Installer
Introduction​
The Toradex Easy Installer application runs completely in memory so that the complete internal flash can be erased, (re)partitioned, formatted, or written.
If your module does not boot to Toradex Easy Installer by default (for instance, it boots to Linux or WinCE instead), you will need to load it in memory from a host computer, using USB OTG in Recovery Mode.
info
Please, carefully read the below to understand the setup of how to load Toradex Easy Installer into the module.
Remarks about the recovery mode (USB OTG) approach:
You need a regular USB to micro USB or USB to USB-C cable, and a carrier board that provides access to the USB OTG interface.
There is no need to prepare an SD card or USB stick, you just need to run a loading script from your PC.
It works with the computer on the module in any software state, including a module with a corrupted bootloader or root filesystem.
You just need access to the hardware. Access to the bootloader or operating system is not strictly required, though it may simplify putting the module in recovery mode for some specific SoCs.
Please avoid using a USB Hub between the PC and the USB OTG port.
The process is executed through scripts for Windows or Linux environments. We don't recommend using Virtual Machines for this process.
The USB OTG approach establishes a connection between your development PC (Host) and the module (Client): A recovery script will be launched from your PC, which will automatically load and execute Toradex Easy Installer in the module.
Over this process, Toradex Easy Installer is first saved in the PC, loaded from there, and executed on the module's RAM.
Download Toradex Easy Installer​
A release will be promoted to stable roughly six months after a release, only if no issues are reported or open. These timelines may vary and are not guaranteed. Otherwise, there will be another release fixing any open or reported issues.
See the revision history and roadmap for details:
info
The support for Colibri iMX6ULL 1GB eMMC was added to Toradex Easy Installer 5.4.0.
Stable Release​
Latest Release​
Nightly Pre-release​
Loading Toradex Easy Installer​
Cables Setup​
Connect all the cables to your Carrier Board, as demonstrated on the Quickstart Guide for your Carrier Board. Don't forget to connect the display/monitor to the carrier board before power on. HDMI hotplug is not supported.
If don't have a display/monitor available, you can access the user interface remotely over the network using VNC.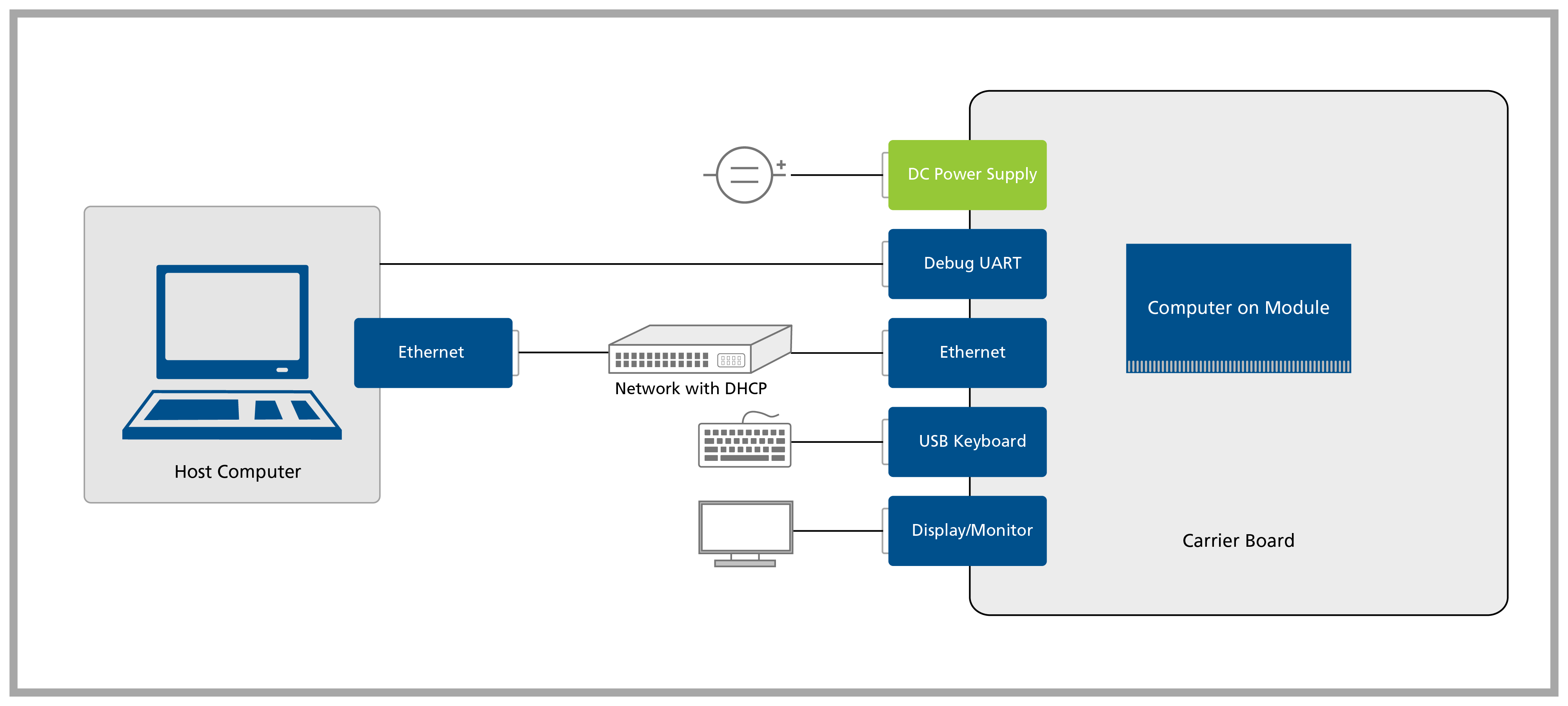 Put your module in Recovery Mode​
danger
If you are using SoMs based on NVIDIA Tegra SoCs, see the Txx Recovery Mode article for information about how to put the device on Recovery Mode.
Select your computer on module from the tabs below:
To check if your Computer on Module has entered recovery mode correctly, you can compare the output of lsusb on your computer before and after entering recovery mode. A new entry will be present if the procedure has been successful.
caution
Don't expect any menu on the Display/Monitor at this moment. The Tezi GUI will only show up after the software be loaded on the next step.
Load Toradex Easy Installer through the USB OTG interface​
Unzip the Toradex Easy Installer package you downloaded at the beginning of the article, change to this directory, and use one of the following scripts on the host machine to load and execute the tool through USB OTG interface:
Windows​
$ cd <unzipped directory>




$ recovery-windows.bat



caution
Apalis TK1 does not have a script for Windows. If you want to load Toradex Easy Installed on an Apalis TK1 module, use a Linux PC.
This process might cause multiple device detections on Windows. Avoid using virtualization since the individual re-enumerated USB devices get not routed through to the virtual machine guest automatically.
Linux​
$ cd <unzipped directory>




$ recovery-linux.sh



info
During the recovery process, the module connected via USB may re-enumerate several times.
If downloading gets stuck or fails with an error, try starting over from the recovery mode article.

Using Toradex Easy Installer​
After loading the Toradex Easy Installer into the module's RAM memory, the Tezi GUI will show up in your Display/Monitor.
info
This process does not write the Toradex Easy Installer to flash. You will have to redo these steps if you power off your module.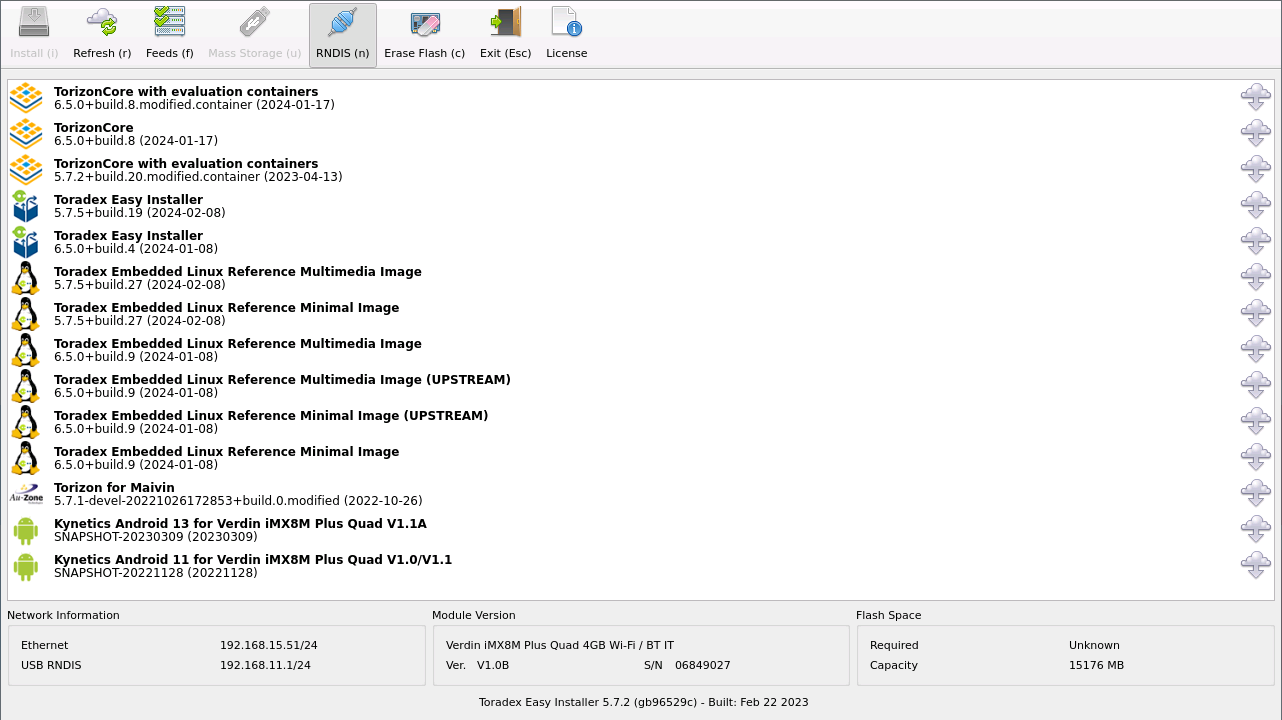 You are ready to install images using the tool. See the Toradex Easy Installer article for instructions on how to proceed.