Dahlia Carrier Board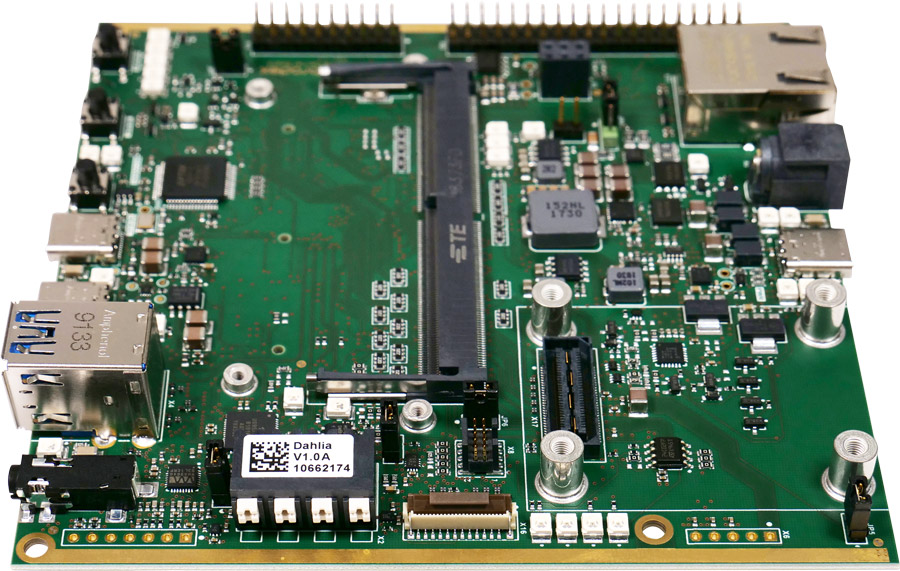 (Double-Click to Zoom)
Getting Started​
This section contains the initial information needed to set up the Dahlia Carrier Board for the first time.
Recommendation for the first-time order​
Toradex recommends ordering the following additional products for your first-time order:
All the products can be ordered online at Toradex Webshop.
Getting started​
The Verdin SoMs come with Toradex Easy Installer pre-installed. Once you power-on the board, it will display a list of available images to be installed. Check out how to get started with the Toradex Easy Installer:
For quickstart step-by-step instructions about how to start using Torizon, please have a look at our step-by-step Getting-Started Guide:
For detailed instructions about how to start developing your software for this Computer on Module, check out our software page. The following Linux-based offerings are currently supported:
Additional information​
For information on how to re-flash an operating system or image on the computer on module please check the Toradex Easy Installer article:
We have quick video tutorials:
For developing software on the platform, please browse through the list of knowledge-base articles provided in the link below:
Having trouble?​
Please contact our technical support. Various option of technical support are mentioned below:
Hardware Features​
Check the hardware features on the product page in toradex.com:
Block Diagram​
Dahlia Carrier Board​
Dahlia Carrier Board Block Diagram
Datasheets​
Dahlia Carrier Board V1.1​
Dahlia Carrier Board V1.1 Datasheet
Dahlia Carrier Board V1.0​
Dahlia Carrier Board V1.0 Datasheet
Design Resources​
Dahlia Carrier Board Design Data V1.1​
Dahlia Carrier Board Design Data V1.0​
Verdin Specifications​
Dahlia Carrier Board Mechanical Models​
A basic 3D model for the Dahlia Carrier Board can be downloaded here:
This is a SolidWorks CAD model. You can download the free eDrawings model viewer from SolidWorks here.
Design and Layout Guide​
Altium Designer​
Compatible Products​
Revision History​
Click to See the Product Numbering Scheme

Product Number (PID8) Format​

The format of the 8-digits Product Number (PID8) is the following:

The below table describes the structure of the Product Number (PID8):

| Field | Description |
| --- | --- |
| PPPP | 4-digits number, indicating the Product Configuration (PID4) that describes the key properties of the product (e.g. Product Group, RAM capacity, etc.) |
| VV | 2-digits number, indicating the Major and Minor Version (in that order) |
| AA | 2-digits number, indicating the Assembly Variant |

See the complete list of available combinations on the Revision History table of the corresponding product page.

Example​

Product number (PID8): 00291100:

0029

: Apalis iMX6D 512MB

11

: Major Version 1, Minor Version 1, Version V1.1 in short

00

: Assembly Variant A
A specific product revision has a lifecycle defined by the product state. Learn more about it on the Product Change Notifications.
Dahlia Carrier Board​
PN: 0155
Product #
Product Description
Changes from Previous Version
Release Date
Related Documents
01551000

Dahlia Carrier Board V1.0A

Internal version only

-

No PCN document, internal version only

01551001

Dahlia Carrier Board V1.0B

Initial public release

July, 2020

Initial Release, no PCN

01551002

Dahlia Carrier Board V1.0C

- Removed resistor 100K Ohm

Q4, 2020

Intermediate Release, solving V1.0B compatibility issue

01551100

Dahlia Carrier Board V1.1A

- Implemented the changes related to the latest revision of the Verdin Family Specification
- Fixed CTRL_FORCE_OFF_MOCI# pull-down resistor
- Added temperature sensor
- Added the HDMI connector
- Replaced the CYPD3177-24LQXQ (IC23) Type-C power profile IC with STUSB4500QTR

Q2, 2021

01551101

Dahlia Carrier Board V1.1B

- Resolve the audio codec "Line In" input signal distortion issue HAR-8427 (see the "Errata/Known issues" section for more details)
- Increase the power rating and the precision of the CAN bus termination resistors

Q1, 2022

01551102

Dahlia Carrier Board V1.1C

- Eliminate the USB Power Delivery functionality and don't assemble the related components (due to component availability constraints)
- Change the value of R102, R109, R115, and R120 from 100kOhm to 1MOhm (resolves HAR-8814, see the "Errata/Known issues" section for more details)
- Change the value of R245 from 10kOhm to 1MOhm (resolves HAR-8814, see the "Errata/Known issues" section for more details)
- Don't assemble C141 (resolves HAR-8935, see the "Errata/Known issues" section for more details)
- Don't assemble D38 (resolves HAR-8935, see the "Errata/Known issues" section for more details)

Q3 2022


01551103

Dahlia Carrier Board V1.1D

- Bring back the USB Power Delivery functionality and re-assemble related components
- Change the assembly state of C95 from "assembled" to "not assembled"
- Change the value of R144 from 15kOhm to 14.7kOhm
- Change the value of R272, R273 from 10kOhm to 2.2kOhm
- Change the value of R65, R98 from 15kOhm to 14.3kOhm
- Change the value of R17 from 28.7kOhm to 14.3kOhm

Q3 2023

Errata/Known issues​
Errata Document​